After taking a silk spinning class, which I wasn't very good at, I started practicing. Since I was focused on silk, which wants to be spun thin and high twist (well, it just looks better that way!) my 'default' yarn size got rather thin over time. Since I'm not exactly the fastest spinner around, it could take me an exceedingly long time to work my way through 4 oz of fiber when spinning dk or lace weight. A couple of weeks ago I wanted to spin, but wanted more-immediate gratification than thin spinning allows. So, I dug through my fiber supply and pulled out a crosspatch creations batt that, while nice, wasn't a colorway I particularly cared for, and made an effort to spin it thick and soft. This was harder than I expected (though it did get easier once it dawned on me to adjust my wheel from the smallest to largest whorl :p) — I definitely spun a bit thick-and-thin! Still, I filled 3 bobbins, and made a very soft and squishy 3-ply that is really quite soft and nice. It's very textural (as are their batts), and being carded rather combed there was a lot of VM to pick out — also, this particular batt was still high in lanolin — nice feel, but made it a bit sticky.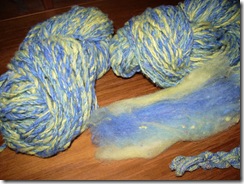 This shows the batt, the original sample skein (tightly spun and plied) and my rather loosely spun 3ply. Crosspatch Creations are known for being very textured batts (lots of silk noil)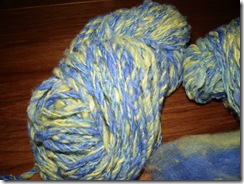 This is a close-up of one of the skeins. You can see how thick and thin it ended up. Still, it IS really soft. And while the blue and yellow combo do nothing for me, I think it is a perfectly usable yarn. Having finished that, but still in the mood for a fast spin, last night I pulled out a Spunky Eclectic roving that was again a colorway I wasn't overly fond of. This turned out to be merino, a fiber I hadn't spun before. I had forgotten just how *nice* her rovings are prep-wise. Still fairly fluffy, and completely clean. I stripped it repeatedly to open it up a bit, and I'm spinning the strips A-B, B-A, A-B… I filled a full bobbin last night, and I'm pretty happy with it over all. Still a bit thick and thin, but more consistent this time, and I think it's going to be quite soft (which, with Merino, is rather the point). This time I'll go 2-ply I think. I find that I prefer the 'look' of a thin, tightly spun, tightly plied yarn, but the 'feel' of a loosely spun, loosely plied yarn. A conundrum.